The nostalgic touchdown of captain Joseph Kinuthia's last flight as he retires after serving 42 years at @KenyaAirways. He was in charge of the inaugural flight to New York. His last flight was New York-Nairobi. #captkinuthiaKQ @ChamsMedia pic.twitter.com/FdN4ERFaOh

— AlexChamwada OGW (@AlexChamwada) February 19, 2019
Joseph Kinuthia, the most highly decorated Kenya Airways pilot received a memorable send after he retired on Tuesday.
The veteran pilot received an avalanche of accolades as soon as the news of his retirement broke across various social media platforms.
A water cannon salute was accorded to Captain Kinuthia after he touched down at the Jomo Kenyatta International Airport (JKIA) for the last time.
Befittingly, his last trip as captain was the New York-Nairobi flight as he was the same pilot given the task of leading the national airline into uncharted territory.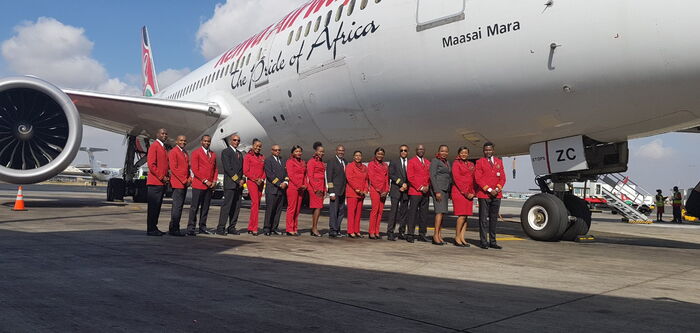 He led a team of three other pilots and 12 flight attendants in the first non-stop flight from Nairobi to New York, marking a major milestone in the airline's as well as Kenya's aviation history.
Captain Kinuthia retires having served the airline for a remarkable 42 years, during which he has accumulated over 25,000 hours of actual flying and 15,000 hours of simulated flight training.